---
Online Registration is CLOSED
One form per vehicle.
Pre-Entry Fee is $15.  Day of Entry is $20.
Includes Dash Plaque, all drawings and CASH Prizes (Must be present to win).
Required Waiver of Liability, Release, and Payment Information
I assume all risk of bodily injury, property damage, and personal damage that may occur by participating in the Rockin' the Ridge Car Show and, for myself/ourselves, their heirs, executors, and administrators, do hereby forever waive and release any and all claims against and agree to hold harmless the Rockin'  the Ridge Summer Festival,  it's committees, sponsors and volunteers, and the City of Dry Ridge with their respective officers, employees, agents, representatives, volunteers, successors or assigns any kind from any and all claims which may be made for any cause whatsoever arising as a result of participation. Further, I hereby consent to allow my picture or likeness to appear in any official document, news release, sponsor advertisement and/or television and radio coverage of the events within or as part of the Rockin' the Ridge Summer Festival, and grant permission to use and/or publish photographic portraits, or pictures, video tape or film of me in which I may be included in whole, part, composite or reproductions thereof in black and white and/or color or otherwise made through any media now known, for art, advertising trade or any other similar lawful purposes whatsoever, including the publicity and promotion of this event itself, excluding commercial use of or by marketing sponsors.
A waiver must be signed at registration when your registration fee is paid.
---
What you need to know: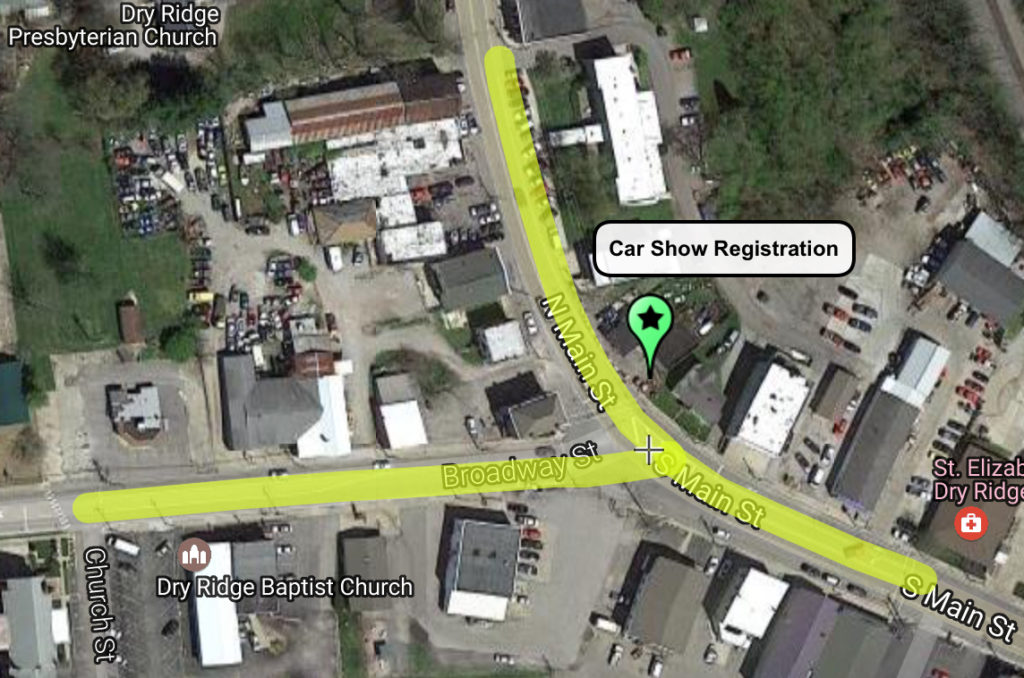 Location – The Car Show lineup will run from Church Street to the intersection of US 25, and from North Main Street from the Lighthouse Church (old BB&T bank building) to Grant County Drugs on South Main Street.
Yellow line is Line-Up Location 
Click to Enlarge
Line-up – The car show area will close to all traffic at 8am on Saturday Morning.  Cars may begin lining up at 8:15am.  We ask you to please lineup with your vehicles facing the closest exit.  This will reduce the pedestrian traffic you need to drive thru when you live the show area.  Vehicle facing direction is indicated on the map.  Please line up by backing in to the North side of Broadway and the East Side of Main Street.  This will allow for the most spacing in from of the vehicle for spectators and for emergency vehicles.  (See Line-Up Map)
Registration – The registration area is located at the intersection of US 25 (Main Street) & Broadway St.  (See Map)
Award Ceremony – Drawings, door prizes and Cash prizes will be given out at the main stage near registration.  You must be present to win cash drawing.  Door prizes will be announced and winning tickets will be posted at registration stage.   You are welcome to go at anytime, however if you choose to stay for the music festival please secure all personal items.  You may leave the area and regain access anytime during the festival, but if you remove your vehicle from the show area you need to find general parking like all other patrons.  You WILL NOT BE PERMITTED to bring any vehicles back into the event area after leaving.
Public Address System – A limited public address system will be in place.  We will broadcast all festival announcements and car show information via FM radio.  Please tune to 88.1 on your FM dial to listen to all announcements.  Due to the close proximity of WNKR 106.7FM radio tower, we may have to alter this frequency the day of the event.  Any changes will noted on this page and announced on the limited system throughout the day.
Event Emergency – In the event an emergency arises, please contact emergency services by dialing 911.  Police, Fire and EMS crews are staged around the event area.  You may also visit the first aid tent located near the intersection of US 25 & Main Street.  Emergency vehicle traffic will be limited to golf carts and 4 wheelers, however in the event a full size vehicle is needed, parents please keep a close eye on your children to ensure no accidents happen.
Event Weather Emergency – In the event of a weather emergency, please follow instructions of all police, fire, ems and security staff.  Any emergency information will be broadcast via the public address system also.
Damage – The City of Dry Ridge assumes no responsibility for and accident or damage that may occur to your property while attending the Rockin' the Ridge Festival.  If you find damage please contact law enforcement by dialing 911.
Prohibited items – See the event prohibited items page.
Alcoholic beverages – This event will have vendors offering alcoholic beverages.  Please drink responsibly and know that the City of Dry Ridge will ask any person who is intoxicated to leave the event area.  This may be in the back of a police car….. you've been warned!